3D Alchemy

Description
Versions Available in:
9 Series
Current Status:
3rd Party Visualization
Developed by:
Averrett & Microsoft
Years Available:
2003 - 2008
Random Preset:
No
Related Visualizations:
Alchemy, Ambience, Battery
Full-Screen Controls:
Yes
Gallery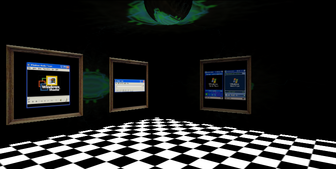 3D Alchemy was a Visualization from the Windows Media Player 9 Series Creativity Pack for Windows XP. It was the sequel visualization to the original Alchemy, with extra bonus presets. The "Classic" preset is the original preset from when Alchemy first appeared in the Windows Media Player 9 Series for Windows XP (R) back in 2003. You could also download this on any version of Windows that is higher but the download is no longer available from Microsoft.
Presets
Classic
Kaleidoscope
Monoliths
Strange World
WM Museum